You can amend the Sage 50 commercial invoice template in Sage. Add EORI, INCO Terms, Declaration Statement, HS Tariff and more. Sage has recently created a Commercial Invoice Template for version 27 of Sage 50 Accounts, which is great news for customers who are exporting goods and want to produce the document from within their accounts software.
But there is a lot to consider before you can use it to its full potential, so read on to find out more… or if you would prefer my help to get it set up for you, give me a call and I would be happy to assist…
Where do I add the HS Tariff Code, Country of Origin and Unit Weight information for products so they will show on my Commercial Invoice?
These fields will be populated automatically on the new layout so long as you have entered the data into the appropriate fields on your product records. If you have never entered this information into Sage, then you need to go to the Products and Services module, edit each product, and enter the information into the three fields highlighted below – Intrastat Com. Code, Weight (kg) and Country of Origin: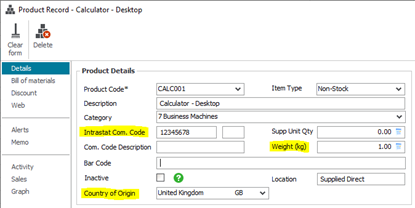 Remember there's the Batch Changes feature if you want to apply the same information to multiple product records at the same time.
Where do I add my company EORI Number to the Sage Commercial Invoice template?
This is a new field in Sage and can be found in the Company Preferences screen in the Settings menu:

Let's move onto some new headings on the layout itself which are very specific to a commercial invoice rather than the standard invoices you are used to in Sage. These are
Inco Terms
Reason for Export
Declaration Statement
Total No. of Packages
There are no standard fields in Sage where you can populate the 'answer' for these terms. Instead you have to make some decisions on where you would like to store the information so that it works for you.
How can I add Inco Terms, Reason for Export, Declaration Statement and Total No. of Packages onto my Commercial Invoice?
The good news is that there are simple options for customising the Sage 50 Commercial Invoice Template to populate these fields automatically. You can:
Hard type the wording into the layout template itself. A perfect solution if the same information is going to be used on every commercial invoice you produce. An example would be the Declaration Statement text which will probably stay the same on every Commercial Invoice you raise.

Choose a field in the customer record to hold the information, for example the Analysis 1, 2 or 3 fields on the Defaults tab. Within Report Designer you would then add the Data Field you have chosen next to the appropriate heading. This option would work well for fields where the information is customer-driven, meaning that a customer will always have that same information on their invoices.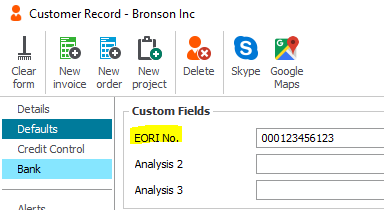 Choose a field in the Invoice entry screen to hold the information, for example the Analysis 1, 2 or 3 fields on the Order tab. You can then add that Data Field to the layout template next to the appropriate heading. This is the best solution if the information will change on an invoice-by-invoice basis, such as the Total No. of Packages.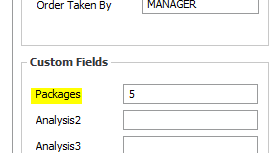 The right solution for you will potentially mean using a combination of more than one of the above options. Once you have decided where you are going to store the information, you can edit the Commercial Invoice layout and make the amendments. Remember to Save a copy of the layout first as you will be prevented from making this level of change on the original copy.
What other fields am I able to add to my Sage 50 Commercial Invoice layout?
Other fields you may want to put on your layout are:
Customer's EORI Number – not a standard field in Sage, so you could refer to Point 2 above to add this information to your customer records. Then it will be available to add to your layout.
Destination Country – this information is held on the customer record so can be added to the layout if needed.
Gross weight – Not available as a standard Sage field so it would be best to consider Point 3 above to add this information to your Invoice entry screen. Then it will be available to add to your layout.
In summary, with a bit of work initially to decide on where to hold the additional data, and then amending the layout itself, you will end up with a Commercial Invoice layout that you can produce quickly and easily from within Sage50cloud Accounts.
If trying to learn how to amend a Sage layout is too time consuming for you then just get in contact and I can go through the process with you, from choosing where to hold the additional data through to amending the layout to satisfy your requirements.
See here for more details on how I help businesses customise their stationery layouts.